Happy Thanksgiving Week!
Thanksgiving is one of the best times of the year – a time where eating is the main activity – who doesn't love that, right?! We sure do 🙂 However, we know that if you're in charge of cooking that big Thanksgiving feast for the rest of the family, it can be kind of daunting and a lot to take on. Many families have the same Thanksgiving spread year after year, and there is absolutely nothing wrong with that – it only happens once a year after all. But, if you're in a Thanksgiving food rut or you just want some extra ideas for those amazing leftovers, we got you covered! Today, we are sharing 4 recipes that will spice up your Thanksgiving feast.
1. Turkey Cranberry Sliders

Ingredients:
2 cups turkey
1/2 tbsp onion, dried
1 Parsley, dried
1 cup cranberry sauce or relish
1 tbsp mustard, yellow
1 tbsp Worcestershire sauce
Salt & pepper
1 package sweet Hawaiian rolls
6 tbsp butter
Parmesan cheese
6 slices swiss
Directions:
Preheat oven to 350.
Cover 9 X 13 baking pan with foil. Spray with cooking spray.
Remove rolls from package in one piece
Cut entire slab of rolls in half lengthwise. (You will end up with one slab of "tops" and one slab of "bottoms").
Place bottom slab in foiled cover pan.
Layer with turkey, cranberry sauce and cheese. (NOTE: You may need to warm up the cranberry sauce in the microwave for a few seconds to make it a spreadable consistency).
Add top slab of rolls.
Melt butter in microwave and whisk in remaining ingredients (except parm. cheese and parsley). Pour evenly over rolls.
Cover with foil and let sit for 5-10 minutes.
Bake covered for 20 minutes.
Uncover and cook 5 additional minutes.
(Optional) Sprinkle with Parmesan cheese and parsley.
Slice into individual sliders and serve warm.
Turkey Cranberry Slider Recipe
2. Honey Roasted Carrots

Ingredients:
2 pounds thin/baby carrots
1/4 cup apricot preserves
2 tbsp honey
2 tbsp olive oil
1 tbsp butter, melted
1 tsp balsamic vinegar
1 tsp garlic powder
1/4 tsp thyme leaves
1/8 tsp ground cumin
3/4 tsp salt
1/8 tsp pepper
Directions:
Preheat oven to 375 degrees F. either line a baking sheet with foil and lightly spray with nonstick cooking spray OR spray your baking sheet with cooking spray. Add carrots to the center, set aside.
In a medium bowl, whisk together all remaining ingredients and pour over carrots. Toss until evenly coated. Line carrots in a single layer. Bake for 30-45 minutes depending on carrot thickness until fork tender, stirring after 20 minutes. *Roast longer for more caramelization. Garnish with fresh parsley if desired.
3. Holiday Cranberry Jalapeño Dip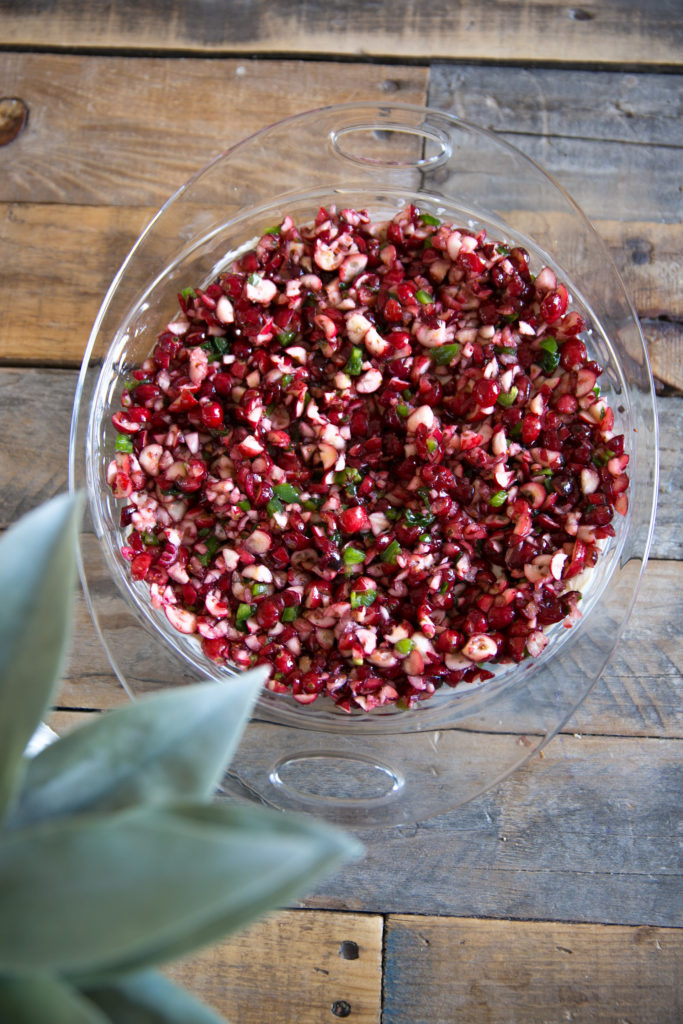 Ingredients:
3/4 cup sugar
1-2 fresh jalapeño peppers
1/4 cup green onion
2 Tbsp cilantro (optional)
12 oz fresh uncooked cranberries
1 Tbsp lemon juice
16 Oz. cream cheese, whipped
1/8 tsp salt
Directions:
Use hand food chopper to chop cranberries. (it is best to not use a food processor to chop these as the cranberries liquify too much).
Chop green onion, jalapeño peppers and cilantro.
In a medium-sized bowl, add chopped cranberries, green onion, cilantro, and jalapeños.
Add sugar, lemon juice and salt on top of cranberry mixture and stir gently until blended.
Cover with plastic wrap and place in refrigerator overnight.
Take cranberry mixture out of the refrigerator and stir all ingredients together. Strain out all liquid using a collander with small holes.
Whip softened cream cheese with hand mixture until smooth (about 2 minutes) and spread cream cheese over bottom of pit plate or 9X9 dish.
Pour cranberry mixture atop cream cheese and keep in refrigerator until ready to serve.
Use a spoon to spread over Ritz crackers, and enjoy!
Holiday Cranberry Jalapeño Dip
4. Pumpkin Pie Cupcakes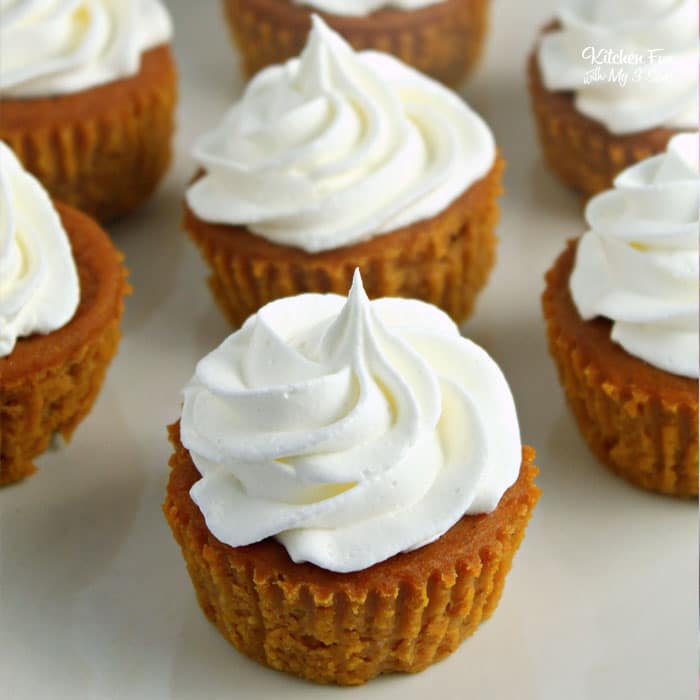 Ingredients:
1 15 oz. can pure pumpkin puree
3/4 cup granulated sugar
2 large eggs
1 tsp. vanilla extract
3/4 cup evaporated milk
2/3 cup all-purpose flour
2 tsp. pumpkin pie spice mix
1/4 tsp. kosher salt
1/4 tsp. baking soda
1/4 tsp. baking powder
whipped cream for topping
Directions:
Preheat oven to 350F and line a muffin pan with cupcake liners.
In a large bowl, combine pumpkin puree, sugar, eggs, vanilla extract, and evaporated milk and whisk until smooth.
In a separate medium bowl; combine flour, pumpkin pie spice mix, salt, baking soda, and baking powder and whisk until combined.
Pour dry mixture into pumpkin mixture and mix just until combined.
Use a cookie scoop to scoop batter into the prepared muffin pan, filling each muffin cup with 1/3 cup batter.
Bake for about 20 minutes, until cupcakes are set.
Let cool in the muffin pan for about 30 minutes.
Transfer cupcakes to a serving tray or plate and chill in the refrigerator for 30 minutes.
When ready to serve, top cupcakes with whipped cream and sprinkle with pumpkin pie spice.
We hope this gave you a little inspiration and made your mouth water at the same time. Let us know if you try any of these recipes out yourself!
We are so thankful for our friends, family, and amazing clients that support us throughout the year. Have a happy and delicious Thanksgiving!
Sincerely,
The Arbuckle Team