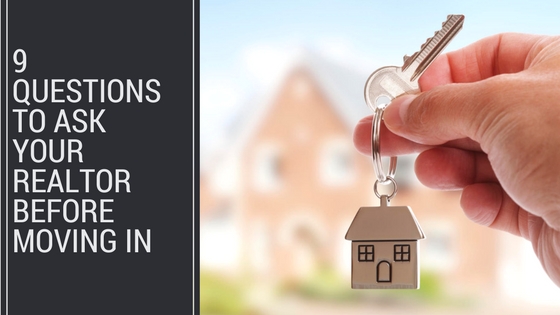 Once you are handed the keys to your first home things can quickly go from exciting to intimidating. You now have this beautiful home all to yourself, but you might start asking yourself "what if" questions and how will you handle all the maintenance that comes with being a homeowner? New home buyers- this blog post is for you! We want this exciting time in your life to be a smooth and happy transition that you look forward to, not one that scares you! Here are 9 questions you can ask your realtor to help prepare you for the big day.
What happened to the garage door remote or extra keys? Before making that frantic call to your agent be sure to check the kitchen drawers or cabinets. It's common that Realtors have their sellers put extra keys and door openers in one of those places. If not, there's a chance that they're still trying to get these items for you from the sellers, so do not panic!
Does anyone else have keys to my house or codes to my security system or garage door? Honestly, there's no way to know for sure if the sellers have any keys floating around or if they've given any codes out. To be safe, it's always a good idea to have the locks rekeyed by a locksmith and your garage door and security codes reset.
Where do I find the furnace filter to change it? Furnace filters on a forced air system are usually in one of two places: either within the furnace itself or held fast to the inside of the cold air return. The cold air return will usually be in the ceiling, so it's pretty easy to spot. In most homes, it's also the largest vent you'll find. However, in homes that were built before central heat and air were common, you may find that you have more than one place to put a filter — make sure to replace all of these smaller filters at the same time. If your furnace filter is inside the furnace, just flip the small door on the furnace open and you'll see the edge of the filter.
Where's the breaker box? This will also depend on the age of your home, but try looking in these places first: inside an attached garage, in a spare bedroom closet or in a utility room. If you still can't find it, go outside and look for your electric meter. Your breaker box should be nearby, either on the outside of the house in a waterproof box or on the opposite side of the wall inside.
Where's the attic access? If you've been through your house and still can't find the attic access, start looking inside closets. For a while this was a really popular place to construct attic accesses. Other spots to look include your garage and, in rare situations, on the outside of the house if there's a flat roof or upstairs porch that could allow safe access. If you still can't find it, call your home inspector, they'll have a record of where the attic door was located.
How do I use my climate control equipment? If it is a basic thermostat you simply choose heat or cool and set the temperature you want. But if your new home features a fancy programmable one things can get a little more confusing. Your agent may even not know how to work it. The good news is that you can easily find manuals for just about anything online nowadays!
What day does the trash run? This will vary depending on where you live. If you have no idea who to call the sellers may have left a bin behind. Check that for any clues on who to call. If you don't have any luck with that, this is definitely a good time to call your agent. They will always be happy to help you, even after the sale, so don't hesitate to give them a call when you truly need help.
Who do I contact at my HOA with complaints? At closing you received a paperwork package which should include your Homeowner Association Agreement. You should have a list of current officers, as well as rules and information on how to initiate a complaint if there's a violation in progress.
How do I use my home warranty? You will get a little bit of information of your warranty at closing, so check your paperwork package for a flyer or something. Typically, not long after you move in, you'll also get a big envelope full of details about what coverage you actually bought. If you need to use your home warranty before that package comes, call the number on the flyer and customer service will be happy to help you through it.
We hope this post has helped ease some of your new homeowner anxiety! Don't forget your agent is there for you, for life, and will be more than happy to answer any other questions you have. Happy Buying!